2014 NEWS
June 2, 2014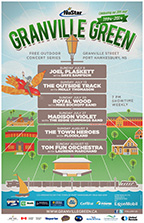 2014 LINEUP ANNOUNCED
It's that time of year again! We're so excited to announce the lineup for 2014 Granville Green - and there is something for everyone.
Jump over to the LINEUP page to see all the action and we'll see you on July 6th at 7 pm when we start it all off with one of top songwriters and performers to ever come from our beautiful province, JOEL PLASKETT!
SOCIALIZING
Have you joined us on Facebook and Twitter yet? Help spread the word on this year's amazing Granville Green outdoor concert series by following all the action on Facebook and Twitter.
Here are the latest Tweets: